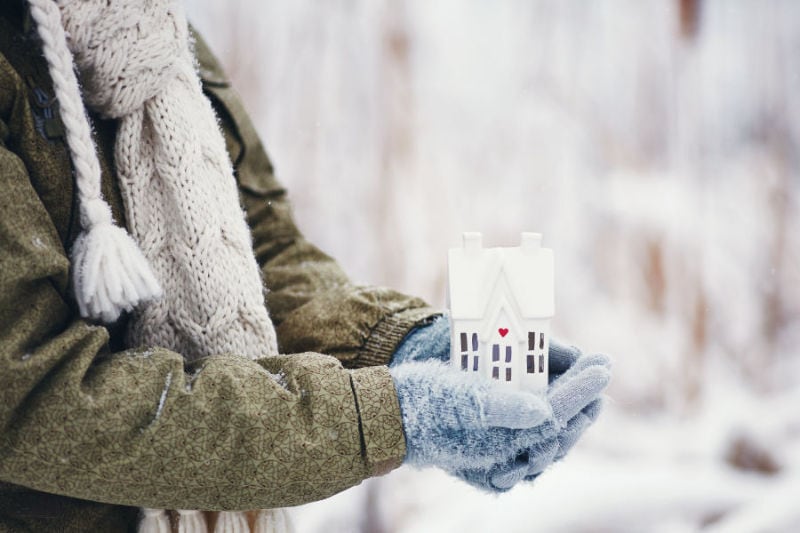 Michigan becomes an incredible winter paradise as the days grow shorter, and the temperatures drop. The Great Lakes State comes alive during the holiday season with its snow-covered landscapes, frozen lakes, and attractive holiday events.
However, the reality of Michigan's harsh winters lurks beneath its beautiful veneer: biting cold, hazardous road conditions, and the necessity for careful planning.
Michigan's winters are notorious for being harsh, frequently driving inhabitants and visitors to their breaking point. But don't worry! Zilka Heating and Cooling will provide you with the knowledge and practical tips you need to survive and thrive during Michigan's winter season.
We've covered everything from reinforcing your Sylvan Lake home against the weather to mastering layering for warmth, navigating slippery roads safely, and finding indoor and outdoor activities to enjoy.
Understanding Winters in Michigan
The Farmer's Almanac predicts a cold and snowy winter for Michiganders, telling homeowners to "keep a shovel at the ready early, especially in the Northeast and Midwest, where snow will arrive beginning in November with storms, showers, and flurries continuing through the start of spring."
Here are a few things to keep in mind:
1. Michigan's Winter Climate and Weather Patterns
Michigan's winter climate is characterized by its geographical diversity, which is heavily impacted by the state's proximity to the Great Lakes. Because the state receives a wide range of winter weather conditions, understanding the climate and weather patterns is critical:

The Great Lakes, particularly Lake Michigan and Lake Superior, significantly impact Michigan's winter climate. When cold air passes over relatively warm lake waters, moisture evaporates and condenses, producing heavy snowfall downwind. This phenomenon, known as "lake effect snow," can cause strong and localized snowfall.

Michigan winters may be brutally cold, frequently falling well below freezing. Sub-zero temperatures are not unusual in some state regions, making planning for extreme cold outbreaks critical.

The amount of snowfall varies around the state. While lake effect snow causes the most snowfall in western and northern Michigan, the southern half may see milder winters with less snow accumulation.

Snowfall can occur from November through April, with December and January being the busiest months for winter precipitation.
2. Typical Seasonal Challenges Facing Residents
The hazardous road conditions are one of Michigan's more difficult challenges throughout winter. Heavy snowfall, ice accumulation, and rapidly changing weather patterns can all contribute to hazardous driving conditions.
Commuters are frequently faced with slippery road conditions, poor visibility due to blowing snow, and the ever-present threat of black ice.
This increases the chance of accidents and can lead to road closures, substantial traffic delays, and emergency services, making safe travel a top priority for people during winter.
Preparing Your Home for Michigan Winters
Preparing your Sylvan Lake home for the harsh conditions of a Michigan winter is critical to maintaining comfort, safety, and energy efficiency. Here are some important actions to take to get your home ready for the season:
Home Insulation—Inspect doors and windows for drafts. Seal any gaps with weatherstripping or caulking.

To reduce heat loss, properly insulate attics, walls, and basements. Doing so can reduce heating bills dramatically.
Upkeep of Your Heating System—Schedule a professional inspection of your furnace or heating system to verify it is in good working order. For maximum efficiency, replace filters regularly.

To control heating more efficiently, install a programmable thermostat. Lowering the temperature while you're away or asleep can help you save money on energy.
Power Outage Preparation—Consider purchasing a backup generator to supply power during power outages. This can keep your heating system, refrigerator, and other critical appliances operational.

In protracted power outages, keep bottled water, nonperishable food, flashlights, and batteries on hand.
Prepare Your Plumbing for Winter—Insulate exposed pipes to keep them from freezing and breaking. Use heat tape or pipe insulation sleeves. Allow faucets to leak gently on exceptionally cold nights to prevent water from freezing in the pipes.
Roof and Gutter Upkeep—Clear snow from your roof to prevent ice dams, which can cause water damage. For safe removal, use a roof rake or call an expert.

Keep leaves and debris out of gutters to maintain adequate drainage. Clogged gutters can cause ice dams and roof damage.
Chimney and Fireplace Safety—Inspect and clean your chimney before using your fireplace or wood-burning stove for the season. Use a screen or glass doors to keep sparks from escaping, and keep a supply of dry, seasoned firewood on hand.
Emergency Provisions—Put together an emergency kit with items such as blankets, first aid kits, flashlights, and nonperishable food.
Winterizing Your Wardrobe
Winterizing your Michigan wardrobe entails layering smartly, selecting insulated clothing, and investing in winter accessories such as hats, gloves, scarves, thermal socks, and waterproof boots.
Staying comfortable requires wearing clothing that is both warm and moisture-resistant. Check your winter clothing for signs of wear and tear, and consider adding ice traction aids to your boots for increased safety. With these changes, you'll be ready to face the hardships of a Michigan winter while remaining warm and cozy.
Winter Driving Security
Driving on Michigan's icy roadways and snow-covered highways during the winter can be dangerous. Winter driving safety entails the following:
Vehicle Preparation: Install winter tires, check antifreeze levels, and ensure your brakes and lights work well. Adjust your driving speed, increase your following distances, and use caution when driving in slick situations.
Emergency Car Kit: Always maintain an emergency kit in your car with supplies such as blankets, torches, and non-perishable snacks.
Indoor Entertainment and Comfort
Creating a warm interior climate is critical during Michigan's frigid winters. Indoor comfort and entertainment can be achieved by using:
Blankets and Lighting: Add warmth and atmosphere to your house by using blankets and soft lighting.
Stock up: Stock up on warm beverages and comfort foods for those chilly indoor evenings.
Indoor Activities: To combat cabin fever, engage in indoor activities such as reading, board games, or movie nights.
Winter Outdoor Activities
Taking advantage of Michigan's winter wonderland and being active is a great way to make the most of the season. Among the outdoor winter activities are:
Ice Skating and Ice Fishing: Try ice skating or fishing on frozen lakes.
Snowshoeing and Cross-Country Skiing: Use snowshoeing or cross-country skiing to explore snowy landscapes.
Dressing: Dress correctly in insulated layers for safe outdoor outings and monitor weather conditions.
Call Us Today to Prepare Your Home for Winter!
Our entire team at Zilka Heating and Cooling hopes this information helps to prepare your Sylvan Lake, MI, home for the winter weather. Ready to conquer the Michigan winter in comfort and style? Call us today at (248) 567-2623 or request service online.